The 2013 Boston Anarchist Bookfair was held November 10-11 at Simmons College, in Boston, MA. A fundraiser show was held on November 9 at the Circle Amory house.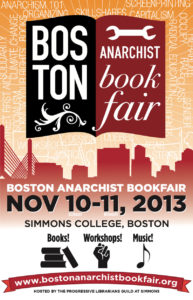 Workshops
A for Anarky: Comic books and Anarchism
Abolition of the Prison Industrial Complex
An Anthropological History of the Concept of Race
Anarchism 101
Anarquismo en Puerto Rico (Anarchism in Puerto Rico)
Asia's Unknown Uprisings & the Obsolescence of the Left to the Rise of Movements
Disconnecting to Connect and Relate Responsibly
Don't Leave Your Friends Behind: Supporting Families in Anarchist & Social Justice Movements
Especifismo: Anarchist Praxis in Latin America / El Especifismo: Práxis Anarquista en América Latina
Fat Justice
Fighting to Win: New England Solidarity Networks
Finding Ease: approaches to mental health
Free As a Bird: Natural Anarchism and Animal Liberation
Graphic Design for Radicals: Making Our Shit Look Good
Online Organizing & Web Design for Radicals
Green Syndicalism vs. Anti-Civ: Social Revolution or Primitivist Reaction? A Polemic
Incarcerated Realities
Ink Marks: An Intro to Screen Printing and How to Build Your Own One Color Press
The June 2013 Uprising in Brazil
Know Your Rights
Library Machines
The Persistent (Tele)Visibility of Police Violence
Quebec student strike 2012: the aftermath
Queerbook Committee
Radical/Anarchist education: a brief history and discussion
Rural Anarchy
Street First Aid
Translating Anarchy: The Anarchism of Occupy Wall Street
Urban Homesteading: America's Forgotten Housing Giveaway Program
What the Fuck Am I Doing Here?
Who are We? A Presentation of the Anarchist Interview Project, an Ongoing Collection of Anarchist Self-Narratives
Vendor Tables
AK Press (Oakland)
ALL-oNE (Alliance of the Libertarian Left of New England)
Anarchist Archives Project (Boston)
Anarchist Black Cross (Boston)
Autonomy->Abolition (Boston)
Bad Comrade Print / Strange Beast Studios
Boston Solidarity Network
Bread and Puppet Theater (Boston)
Bright Hollow Medicinals (Providence)
Cheap Artists of the World
Collective-A-Go-Go (Worcester)
Common Struggle/Lucha Común
Earth First! Journal
Families for Justice as Healing (Boston)
Institute for Anarchist Studies
IWW Boston
Jacinta Bunnell
Little Black Cart (Berkeley)
Lucy Parsons Center (Boston)
Papercut Zine Library (Boston)
PM Press (Oakland)
Simmons College Progressive Librarians Guild
Socialist Alternative
SQ Distro (Pittsburgh)
The Sacco and Vanzetti Commemoration Society (Boston)
The Wooden Shoe (Philadelphia)
Under the Pavement
VINE (Veganism Is the Next Evolution, Inc.) (Vermont)
Show
There were three short and sweet puppet shows:
The True Tale of Bluebeard as told by the Tooth and Nail Puppetry Front. The frightening feminist tale of marriage, murder, and revenge.
A show about Michelina de Cesare, the Italian bandit.
Stop Stop & Frisk: a shadow puppet tale of resistance in communities if color.
Followed by KARAOKE projected on the wall!