The 2014 Boston Anarchist Bookfair was held November 23-24 at Boston University, in Boston, MA.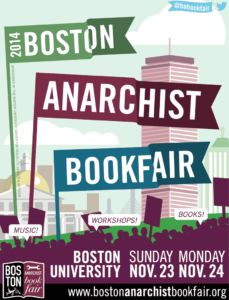 Workshops
Affinity Groups
Against Race and Capitalism: The Need for Utopian Thinking
An Anti-Authoritarian Analysis of Syria's Uprising and Civil War
The Anti-Work Workshop
Anarchism 101
Anarchism and Psychology
Animal Rights and Anarchism
Aramark Action – Exposing Injustice in Corporate Food Service
Beyond Childcare: a Discussion on Supporting Families in our Movements
Boston to Ferguson: Resistance the Police
Building Student Power
Cross-Pollinating the Grassroots: Mesoamerica Resiste!
Dispatches Against Displacement: Field Notes From San Francisco's Housing Wars
DIY Papermaking
The Fight for the Housing Right in Spain: From V de Vivienda to La PAH
Fight Like Hell and Live: Strategies for Surviving Suicidality and Supporting Friends in Crisis
Frenemies In Our Midst: Liberalism's False Radicals
Graphic Design for Radicals: Making Our Outreach Look Good
Imagining Fat Justice
Navigating the Surveillance State: Turn your Paranoia into "aware-anoia"
Pieces of Meat: Sexism, Speciesism, and Intersectionality
Punk Rock, Mental Illness and Recovery
The Role of the Revolutionary Organization – Black Rose / Rosa Negra Anarchist Federation
Situationism Redux
Theater of the Oppressed: Arsenal Games
Who's Afraid of the Black Blocs?
Vendor Tables
AK Press
Alliance of the Libertarian Left of New England
Bad Comrade Print
Better Days Recovery Press
Between the Lines
Black and Pink
Black Powder Press
Boston Black Rose Anarchist Federation
Boston Feminists for Liberation
Boston Food Not Bombs
Boston Radical Mental Health and Trauma Collective
Boston University Students for Justice in Palestine
Bread and Puppet Theater
Earth First! Journal
Families for Justice as Healing
Food Not Bombs
Friends of Untorelli Press
If Not Now, When? Boston
Institute for the Study of Insurgent Warfare
IWW
Justseeds Artist Cooperative
Little Black Cart
North American Animal Liberation Press Office
Papercut Zine Library
Platypus Affiliated Society
Pleasure Pie
PM Press
SGL Editions
Skunkdog Distro
SQ Distro
Tha Truth Music
Till Dust and Teeth
The Center for Gender, Sexuality, & Activism at Boston University
The Lucy Parsons Center
Underthepavement Distro
VINE Sanctuary
Wooden Shoe Books
Zapatista Rebel Autonomous Spanish and Maya Languages Center
Zinn Education Project